Gardening Jobs for this week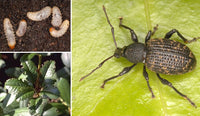 If you keep many mature plants in pots, now is a good time to knock the pot off and check the roots are healthy looking. Look out for the white 'comma' shape grubs of the vine weevil. If you find any, remove and destroy as much of the soil as you can from around the roots then repot with fresh soil.
Vine weevil grubs feed on roots throughout the Winter months, eventually killing your plant by stopping it from getting food and water. (If you want to take the time to separate them from the soil, robins love them!!). If your plant is looking pot-bound then pot it on into a larger size container. 
It is a good idea to push pots together now into a sheltered position to protect them from frost and raise them off the ground with pot feet or a stone under one sides tat excess water can drain through and not cause root rot. 
Keep paths and decking clear of moss and algae as it can make the surfaces dangerously slippery. 
Hoe the worst of the moss off and sweep up. It is fine to go into the compost heap. Clean the surfaces with a moss/algae killer and a pressure washer. You can also use white vinegar as an alternative - diluted 1 part vinegar to 8 parts water.