Gardening Jobs for this week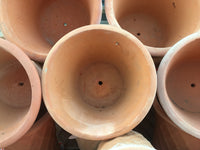 With the constant rain at the moment, indoor jobs are a good thing. Now is the perfect time go through pots and trays that have been used throughout the year. Throw out any that are beyond use and clean those that you will want to use next year. Wash them in water, then rinse with diluted disinfectant and allow to dry. This cleans the pots of old soil but also removes any disease or fungal spores, making a healthier environment for your new plants and seedlings. Store dry and dark over the winter.
When we can get out in the garden, now is a great time to be planting shrubs and trees so they can get settled in ready to perform next year. Planting evergreens now, you can fill any gaps in your borders with a splash of brightness - perhaps a variegated Elaeagnus or some Euonymus. Deciduous shrubs will give structure, especially Cornus species with their crimson or green stems.