Information about Tandoori Ovens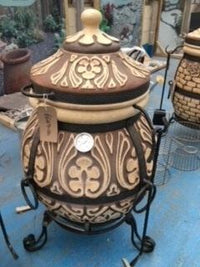 Cooking Season is here, 
The latest and one of the greatest outdoor cooking experiences is the Tandoor Clay Oven.
Take your outdoor entertaining to  a new level of tasty
          Information about the Tandoori Oven 
Where did Tandoori ovens originate from ?
 Traditionally from Southern, Central and Western Asia, 
 They function through convection cooking and can reach temperatures of approx. 480 degrees.
What types of Tandoori ovens can you get?
We only stock the 1 but you can get 4 different ones which include, Square Tandoor, Gas Tandoor, Dirt Tandoor Oven and Drum Tandoor
How do you look after your Tandoor?
After the tandoor cools down, remove the remainder of the mixture from your tandoor using a soft moist cloth.
To remove rust you can use a stiff long handled brass brush to scrub the Tandoor plates only. You can also use mild detergent for the plate washing. By using a scrub pad, remove the rust that appears on your plate.
Please see below a picture of inside the Tandoor
..
Please see below useful link on how to use the Tandoori Oven 
Accessories 
Wanting to expand on your Tandoori, we have the perfect accessories to match 
Food Ideas and Recipes 
Ingredients 
Sour Cream – 3 tablespoons Garlic paste – 4 tablespoons
Salt – 1 tablespoon Ginger powder – 1 tablespoon
Cumin powder – 2 tablespoons Ground Cashew – 2 tablespoons
Garam Masala – 1 tablespoon Ghee – 3 tablespoons
Kasoori Methi – 1 tablespoon White pepper – 1 tablespoon
Red chili powder – 1 tablespoon (or to personal spice level)
Paprika – 2 tablespoon Citric Acid – 2 teapoons
Meat Tenderizer – 2 teaspoons Chicken Drumsticks – 5 count
Two inch cubes of Skinless Salmon – 8 pieces
 Serves 6-8 people
 Prepare
Cut slits into chicken pieces
Add garlic paste, meat tenderizer to chicken – cover and let sit for 20 minutes 
Add ghee to bowl
Add spices to ghee and mix well.
Add other ingredients and mix well. 
Mix marinade and chicken/salmon together. 
Cook
Tandoor
About 1 hour before cooking, start up tandoor with charcoal (or gas)
Get temperature up to between 750° – 850° F for chicken, 700° – 800° F for salmon (Point IR Gun at middle of clay)
Chicken/Salmon
how to make the perfect chicken