Information about plants and palms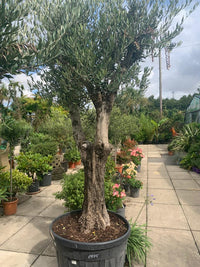 Looking for information about our palms we have a useful blog which will help you 
Yucca Big Palm
Genus of evergreen shrubs and trees, grown for the architectural value of their bold sword shaped clustered leaves.  Excellent container grown plants.  Requires full sun and well drained soil.

Yucca  is a tree yucca up to around 3.5m high, with one or more woody stems, and a sphere of narrow, smooth, spine-tipped, blue-green leaves; they are 60-90cm long but only 1.3-2.5cm wide, and are rigid near the stem but flexible after the widest point, so that they move in even a slight breeze. The flowering stalk is up to 1.5m long with white flowers in summer or autumn.

Cultivation: Grow in full sun with shelter from cold drying winds and in well-drained soil - it will grow well in open, rich loamy soil but tolerates poorer, sandier soil, and may withstand cold better when grown in poorer soil
Dwarf Fan Palm
Dwarf Fan palm (Chamearops Compacta)
This is the only palm native to Europe which gives an exotic focal point in any garden with its evergreen fan-shaped leaves. It is naturally slow growing and rarely exceeds head height. Given a warm, sheltered position it's safe to plant outside, but in colder areas it's best grown in a large tub and brought indoors during the winter.Half Hardy to Frost tender (Min 7 C)
Needs full light and well drained fertile soil.
Yucca Rostrata
Genus of evergreen shrubs and trees, grown for the architectural value of their bold sword shaped clustered leaves.  Excellent container grown plants.  Requires full sun and well drained soil.

Yucca rostrata is a tree yucca up to around 3.5m high, with one or more woody stems, and a sphere of narrow, smooth, spine-tipped, blue-green leaves; they are 60-90cm long but only 1.3-2.5cm wide, and are rigid near the stem but flexible after the widest point, so that they move in even a slight breeze. The flowering stalk is up to 1.5m long with white flowers in summer or autumn.

Cultivation: Grow in full sun with shelter from cold drying winds and in well-drained soil - it will grow well in open, rich loamy soil but tolerates poorer, sandier soil, and may withstand cold better when grown in poorer soil
Phormium Black
Phormiums are undemanding exotic-looking, evergreens with eye-catching coloured, sword-like leaves. They are ideal for sunny borders, gravel gardens or containers. Their dramatic, curious flowers that tower over mature clumps in summer are a real talking point.

Though most are hardy in average UK winters, mulching and wrapping may be needed to prevent winter damage during cold winters and in northern parts of the UK. 
As phormiums are not fully hardy, so the best time to plant is in spring so the plants have time to establish well before the weather turns cold and wet. Planting during the summer and early autumn is also possible, but late plantings are more prone to winter cold and wet damage.