Gardening Jobs for this week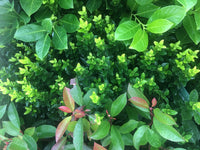 There is still time to be planting evergreen shrubs. They are a great way to fill in a bare space in the border, looking fabulous through Winter and creating a background against which Summer perennials can shine. Plants such a Euonymus, Choisya, Elaeagnus provide structure and colour all year long.
Check the support ties on young trees to make sure that they have not become too tight or too loose. Also check that the stake is still secure.
If you have any decorative pots that are not frost-proof it is best to empty them out now, clean them and store them somewhere frost-free until next Spring.