Gardening Jobs for this week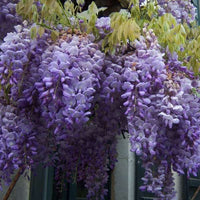 Now is the time to Winter prune your wisteria to encourage more flowers this Summer. There are two types of bud; thin flat buds will produce leaves and fat buds that will go on to produce flowers. 
Take a good look at your plant and cut out any stems that detract from your basic framework shape, giving the plant a good tidy up, then work round what is left reducing the stems that were cut back in Summer to 3 buds. This will encourage the development of flower buds.
Whilst the soil is moist give your fruit trees a good layer of mulch. Leaf mould is great, but compost or multipurpose compost or coir will also do the job. The mulch will help retain the moisture in the soil and around the plant roots. Microbial activity in the soil will increase and when you start to feed your trees once growth starts in Spring, the microbial life will help your tree take the nutrients up more efficiently.