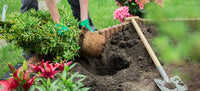 After some good advice on gardening.... Why not have a read of this article written by one of our very knowledgeable gardeners. With helpful hints and tips on all matters of gardening. 
PROTECT PLANTS
January's cold frost and bitter winds mean tender plants need extra protection. Wrap them in fleece to protect foliage or cover rows with polytunnels.
POTS AND CONTAINERS
You should also lift containers up onto pot feet – this helps the rain drain away and prevents any waterlogging.
Wet compost can rot roots, as well as causing pots to crack in frost.
Snow: If it snows, the extra weight on tree and shrub branches can cause them to snap, so be sure to knock it off with a broom.
When it warms: Make sure to remove plant protection as soon as the temperatures start to rise. Warm, damp air is a haven for rot and mould.
DIG OVER & PREPARE GROUND
If the ground is waterlogged, then keep off the soil to avoid compaction.
Fork over your vegetable patch and flower beds to aerate them.
Getting air into the soil is vital because plant roots need plenty of oxygen. Choose a dry, warm day when the soil is not too waterlogged.
Don't worry about breaking down all the clods of soil. Keeping them large will help air circulate and any later frosts will break them up.
Doing this early will pay dividends when you come to start planting • If snow falls – do not let the snow sit on the shrubs, gently shake off to prevent damage.
Prune bush and standard apples & pears, to create an open framework of about 5 main branches.
Take root cuttings from perennials for new growth in time for spring.
Sweet peas can be sown and Place them in a sunny greenhouse, cold frame or windowsill.
Plan your flower borders for your annual flowers displays - Mulch borders if not already done in autumn.
Plant deciduous hedges.
Move deciduous trees and shrubs if necessary.
Ensure protective coverings such as mulch has remained in place to protect tender plants.
Avoid walking on turf when the grass is covered with frost or is waterlogged.
Plant new hedges and trees.
VEGETABLE GARDENS
Remove one-third of the oldest stems of blackcurrants at ground level to encourage new shoots.
Plan crop rotation - aim to grow each crop in a different bed to last years to avoid the risk of disease.
Cut back apples and pears by a third to remove any dead or weak growth.
OTHER JOBS
Ventilate the greenhouse regularly to avoid moisture build-up.
Clean pots & seeds trays & plant labels.
Check compost bins for excess moisture turn regularly.
FEED THE BIRDS
Natural food sources for birds are in short supply in winter, so help your garden birds by regularly putting out food for them. It's better to feed them little and often