Garden tools for beginners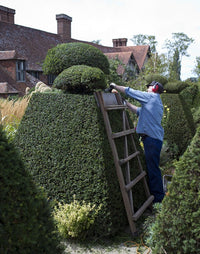 1-Gloves
Gloves should be durable but not too bulky
We always recommend the fit, as poorly fitting gloves can cause blisters or result in accidents from slipping off.
Fabrics that are water resistant, but also breathable, will help keep hands cool and comfortable.
Longer cuffs protect wrists and forearms from scratches and keep soil from getting in.
Always make sure you store your gloves away from the sun and insects , this will make your gloves last longer
2-Hand Pruners or pruning sheers
Anvil pruners are best for dead wood and can cause crush injuries to fresh, green stems and branches.

Bypass Pruners 

are better for live plants and green wood.
We recommend that Pruners should fit easily in the palm of your hand.
Ratcheting pruners provide increased cutting strength, perfect for anyone with reduced hand strength or arthritis.
You should always make sure that your cutting tools are sharp and cleaned regularly 
3-Garden Fork
Forks with a slight curve  are useful for scooping mulch or turning compost piles, much like a pitchfork.
Straight tines are better for digging; great for compacted, rocky, or clay soil.
Other useful Garden tools to buy
. Hand Trowel
.Spade 
.Rake
.Hoe
.Garden Hose with adjustable noel
.Knee Pads/kneeling mat 
Click on these links below for more information
Easy Flower beds for beginners
How to start a vegetable garden 
.