17 points to consider when designing your new garden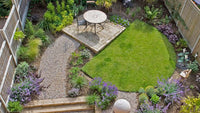 Follow our simple steps achieve you perfect garden layout. 
1. What style of garden would you like? Formal, Mediterranean, Classic, Cottage, Japanese, Modern, etc.
2. Make a collage of things & plants you like, cut pictures from magazines or save from the Internet. 
3. Which direction is your garden facing? Are there any shady areas? Or sunny spots?
4. Do you want utility areas? Sheds, greenhouse, compost area, workshop.
5. What hard landscaping do you like and want? Patios, paths, ponds, gazebo, (what type of slabs, decking, aggregates)?
6. What do you want to use your garden for? (entertaining, children, relaxation).
7. What area do you live in? (coastal, windy, hard frosts).
8. What type of soil do you have? Clay, well drained, chalky.
9. Is there something specific you want to achieve? Like blocking something or someone out.
10. Do you want any buildings? If so, make sure you allow for it. What size and style? This includes: sheds, summer houses, garden rooms, greenhouse, garages, gazebos, swimming pools etc.
11. Does your land need enriching with various additional soil additives? This is important preparation before planting.
12. Are there any large plants or trees you want or don't want?
13. Do you have pets to consider? (dogs, horses, others)
14. Put a figure (£) on what you want to spend.
15. Consider buying large plants as these give instant impact which normally takes years to achieve and many times is cheaper in the long run.
16. Do you require hedging? If so, what type of hedging?
17. Look for the sweet spots in the garden, the places that feel good to you. Likewise find the negative spots that you want cover or hide.
FREE PLANTING LAYOUT SERVICE 
Gardeners Paradise offers a free planting layout service where you bring along the size of your flower border, pick your plants and while you're having a cuppa our staff will arrange & lay out your plants. You can then add, remove or rearrange the plants before purchasing. Simply take pictures or better still video of the planting scheme. This way you get your perfect garden every time. Please note this not a garden design service but a service to help you buy the right plants to achieve your perfect garden.
To pre-book your slot for this service phone 01227 462693 and our friendly staff will be happy to help.