Month by Month Gardening Calendar - 09 September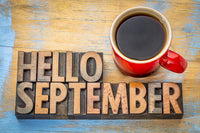 What to do in the garden in September
A glorious month in the garden and a time for harvesting, September can be varied in terms of temperature, you may experience chilly mornings or nights but there is still a chance for some late summer warmth and sun. On less than lovely days, you could spend some time organising your greenhouse in preparation for overwintering your tender plants. Clear it out and give it a good scrub ready for the months ahead. 

Any summer bedding and hardy perennials will start to die back this month, to keep the garden clean and tidy, remove any dead growth and check for signs of disease, if you do find any diseased plants we recommend burning to avoid it spreading. Any other dead growth or spent plants can be added to your compost heap if you have one.  

This is a great month to get your spring bulbs ready to be planted, but remember to leave Tulip bulbs until November.

For the full list of jobs to do in the garden this month, take a look below.
Ornamental Garden:
Continue to deadhead.
Begin to clear leaves as necessary.
Keep borders clear of weeds.
Take cuttings of tender perennials.
Continue to deadhead bedding plants.  
Plan for next year's garden displays.
Collect seed from perennials / hardy annuals.
Start planting spring bulbs.
Lift and divide herbaceous perennials.

Start planting trees and shrubs towards the end of the month and move evergreen shrubs etc. while the soil is still warm.

Prune lavender.

Collect and get rid of any infected rose leaves.



Other Garden Jobs

Empty and tidy up the greenhouse.

Rake, aerate and feed lawns. If the lawn is showing signs of wear sow grass seed. 

Make your own compost heap with plant debris.