Month by Month Gardening Calendar - 11 November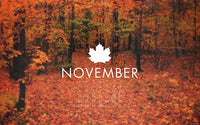 What to do in the garden in November
November can be typically damp and windy but occasionally mild with a fair few days of autumnal sunshine -  take full advantage of any bright, sunny days now so you can get ahead with preparing for winter. This is the month to plant your
 tulipo bulbs
for flowering in spring, we've got some helpful articles at the bottom of the page which are full of tips and tricks on planting spring bulbs.
If you're busy cutting back and tidying borders this month. Add your waste material from the garden to your compost heap or bin. You could also use the collected leaves to make leaf mould; place them in a reusable bin bag with a few puncture holes and leave them to decompose for up to 2 years.
Use this month as an opportunity to plant bare-root trees shrubs and roses and to clean or repurpose any
 pots
,
 trays
or
 troughs
you don't plan on using to help with the organising of the shed in preparation for the busy spring months that are just around the corner. 
Most of all, don't forget to stop and enjoy the autumn colours and foliage at the moment as it can be truly spectacular!
Ornamental garden:
Part

 prune

 

roses to prevent wind rock.
Continue to tidy borders if weather permits.
Final cut for lawns if no frosts.

Rake 

and remove fallen leaves.
Cutback spent foliage and flowers of herbaceous perennials.
Leave the seed heads of grasses like Miscanthus to provide winter structure.
Continue to lay turf for new lawns – avoid frosty days if possible.
Remove surplus dead leaves from ponds.
Complete planting of bulbs.
Mulch borders – especially borderline hardy perennials.

Plant bare-root shrubs and roses.

Plant amaryllis or paper-white daffodil bulbs for blooms in time for Christmas.

Plant winter flowering shrubs like daphne and sarcococca.
Take hardwood cuttings of roses and other deciduous shrubs.
Scarify lawns.
Keep off lawns in wet and frosty weather.