Gardening Jobs for this week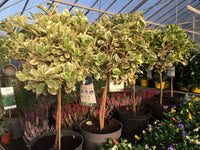 Check over any variegated shrubs that you have. You may find that some shoots are growing green rather than variegated. This is where the plant is reverting to its natural state. The green shoots will be stronger and will eventually take over the plant. Prune them out to keep your plant looking lovely.
If you have Dahlias, now is the time to lift and store them for winter. Clean the soil off the tuber and cut back any growth. Store in a container covered with dry compost or sand and leave in a cool, dark place.
Move citrus plants inside now. They require a bright place and to be over 10° C. When they have been moved they may have some leaf drop, but this will not last long. Don't allow your citrus plants to dry out and feed with a high potash fertiliser every other week.