FEATURE PLANT OF THE WEEK - FATSIA JAPONICA 'SPIDERS WEB'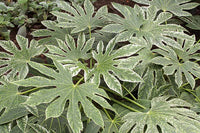 Fatsia Japonica 'Spider Web' is a very popular Fatsia Japonica due to its large frosted look leaves on long stems but also as it flowers and berries, attracting local of wildlife into your garden. 
This type of Fatsia Japonica is suited for moist, well-drained soil, ideally in semi-shaded areas but will tolerate full shade making them a versatile option.
This eye-catching evergreen shrub will grow to around 2.5m height and spread and is a low maintenance plant, that can simply be left to grow. Trimming may be required on any shoots that affect the symmetry of the plant in mid-late spring.
This week's feature plant has a very special offer with 20% off pot price.
Normally £12.75 now £10.20