Month by Month Gardening Calendar - 01 January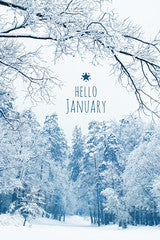 Welcome to our year round guide to looking after your garden. Below you'll find a timeline of when to plant as well as other jobs that will need doing around your garden. All these hints and tips come from our in house gardeners.
Welcome to January! 

What to do in the garden in January
Welcome to January, from now on the days will start to get longer and you and your garden will be raring to go for the long-awaited spring. Typically, January is one of the coldest and windiest of months - it's not impossible to see a sprinkling of snow either. Now a good time to sort out the shed or greenhouse if you haven't yet, grey days are perfect for sorting, tidying and cleaning in anticipation of the new gardening year. 
It's important to check any plants that are currently in cold frames and to remove any dead flowers or leaves that could cause grey mould. Don't forget to make you have frost protection fleece
and or coverings in place! 
Get to know your
 soil
, what better way to understand your garden than by taking some time getting to know your soil; testing your soil's pH is easy and can be done in just a few minutes with a
 soil test kit
. Knowing your soil type will help you to choose plants that complement your soil. Luckily, there are ways of
 improving your soil
to accommodate the plants you would like to grow that don't suit your current soil type. 
If the ground is waterlogged, then keep off the soil to avoid compaction.
If snow falls – do not let the snow sit on the shrubs, gently shake off to prevent damage.

Prune bush or standard apples and pears, aiming to create an open framework of about 5 main branches.

Take root cuttings from perennials for new growth in time for spring.

Sweet peas can be sown this month and those sown in the autumn can be potted on. Place them in a sunny greenhouse, cold frame or windowsill.
Plan annual cut flowers for the borders.
Mulch borders if not already done in autumn.
Plant deciduous hedges.
Move deciduous trees and shrubs if necessary.
Ensure protective coverings such as fleece/mulch have remained in place over frost tender plants.
Avoid walking on turf when the grass is covered with frost or is waterlogged.

Ventilate the greenhouse

 

regularly to avoid moisture build-up.
Keep bird-feeders and bird baths topped up.

Clean pots and seed trays.

Check tree stakes and ties.

Inspect toolsand sharpen secateurs.

Clean plant lables. 

Check compost bins for excess moisture and turn regularly. 

Organise seed collections and start planning your garden layout for the year ahead.

Order new seeds to sow.